Funeral flowers for delivery to locations in Milton Keynes, Olney, Newport Pagnell
Buckinghamshire, Bedfordshire, Northamptonshire and surrounding areas.
Green Burial funeral flower orders also welcomed.
Our arrangements are carefully and thoughtfully gathered and put together based on your chosen colour scheme.
The pictures shown on this page are all examples to just illustrate our wide range of designs and bespoke requests.
Please phone to discuss your exact requirements, we are more than happy to help you achieve a very meaningful & fitting tribute to honour your loved one, or simply place your order below and we supply a seasonal and natural tribute based on our best availble flowers and foliage for that week.
We always deliver to the Funeral Directors first thing in the morning so if you want to just click and buy online you can be assured that they will be delivered as and when requested.
As a local grower of British flowers we can offer natural, beautiful, seasonal funeral flowers that celebrate the life of a loved one in a very special and unique way.
As well as round wreaths, coffin sprays and sheafs we also produce large arrangements to cover the whole top of the coffin and garlands to fix around the casket or willow coffin by request, please contact us to direct to discuss your exact ideas.
We tailor our arrangements not only seasonally but to make them more personal than 'off the shelf' bouquets.
We have included apples and vegetables for a gentleman who loved gardening, included teasles and grasses for a lady that loved going on long walks in the countryside, and dried wheat and berries for an ex farmer who loved nature.
For Green Burials we will tie the sheafs with natural raffia that is biodegradable, and we also produce dainty garlands of ivy with flowers entwined which we can fix onto willow coffins or around woven urns on request.
Thanks

Thank you so much for the beautiful flowers you put together for my Dad's funeral on 3rd August. They were completely perfect. Thank you too for the time you have taken to listen to our aspirations at such a difficult time for us, you made it much easier and less challenging. I am looking forward to coming back to you and using your services under happier circumstances as your work and ethos are wonderful. Best wishes, Alice Darrington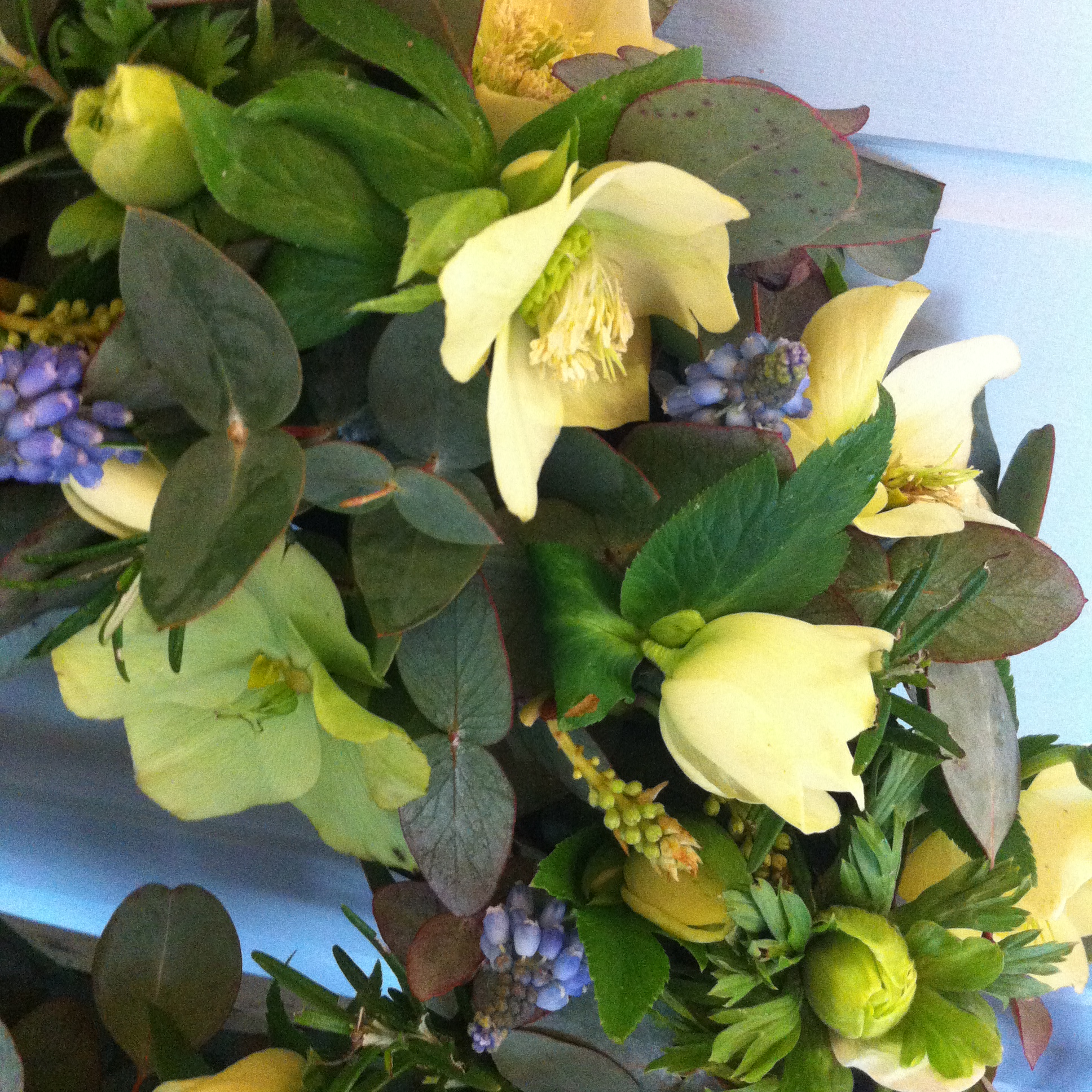 Natural style funeral flowers - Milton Keynes

Dear Alison, Thank you so much for the wreath and sheaf you provided last week . They were delightful and exactly what we wanted. Kind regards, Deborah Smith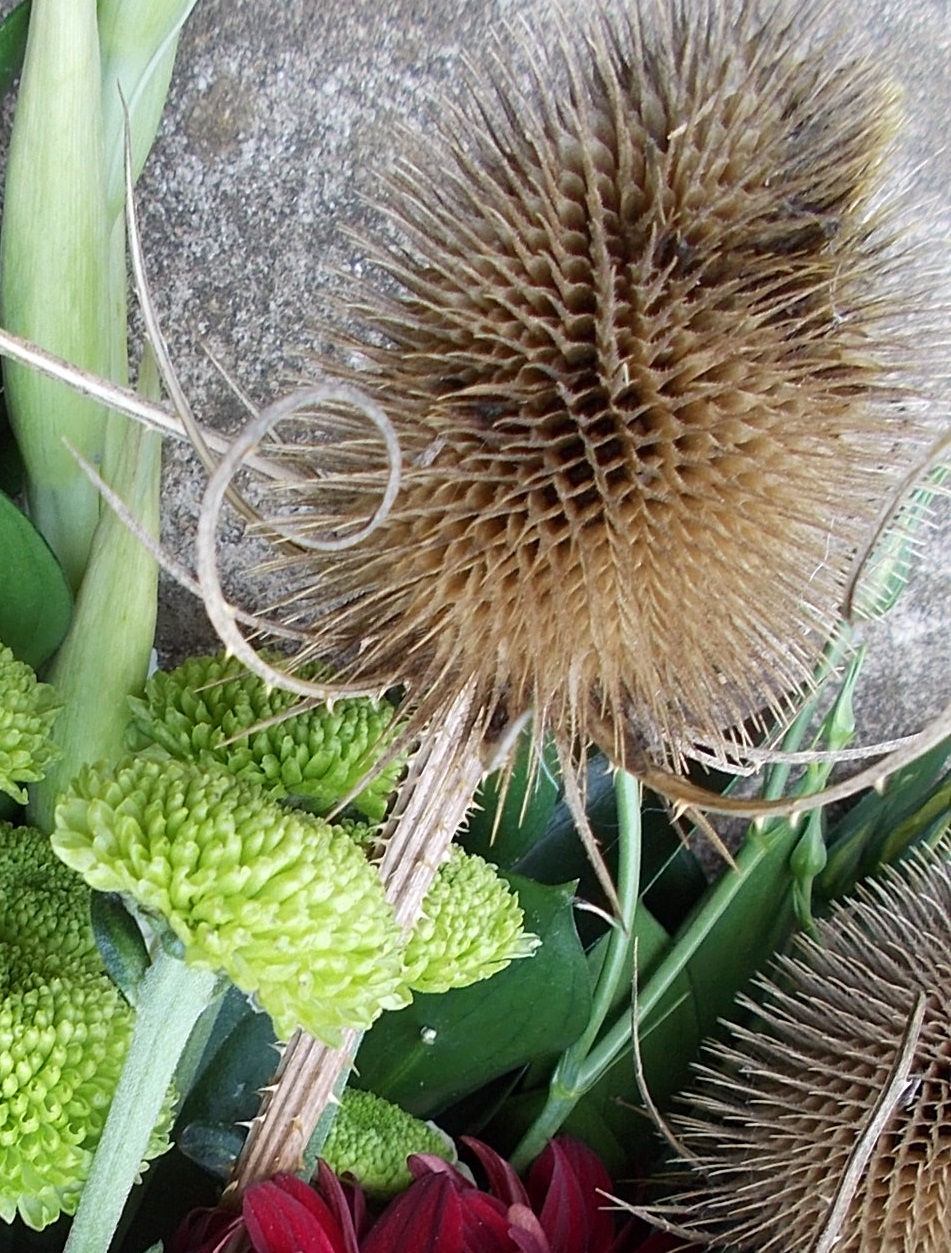 Funeral Sheaf

The Flowers for Dave's Funeral Last Thursday (14th July) were absolutely beautiful and just what I had in my head. What perception you have, and only after a few minutes conversation. Everybody commented on how the flowers were just Dave, so thank you Field Gate Flowers. Thank you also for the way in which you received us, at such a difficult time. We will certainly recommend you to all. Yours, Jackie Sharp
Always planted following discussions with the close relavtives, hence this planter contained Rosemary (symbolising remembrance), cyclamen (symbolising goodbye), narcissus (meaning to sleep and connected with the afterlife) and a small patio rose (pink flowers are a symbol of love and honour).
We plant them in pots leaving plenty of room for growth and use plants with very low maintenance.
Field Gate Flowers are extremely happy to launch our new service of grave tendering. We were being asked if we could possibly handle this service and after consideration thought what a lovely thing for us to do.
For some people, visiting the local cemetery or churchyard to care for the grave of a loved one can be an extremely difficult thing to do. There are many reasons for this, such as age, illness, or pure geography.
Our service includes visiting your love ones grave once a month or more often if required (in MK and some NN) postcodes to leave beautiful British flowers. All arrangements will be seasonal and left in suitable vessels. We would forward photographs of all flowers delivered in order that you can see that the flowers left are indeed beautiful.
We also offer this as a one-off service on an anniversary of a loved one.
Prices start from £30 pcm / or £38 as a one off delivery in Milton Keynes or surrounding villages.
Please email us with your requirements as we would like to discuss your requirements.
Funeral flowers Milton Keynes, Funeral flowers Olney, Funeral flowers Newport Pagnell, Funeral flowers Stony Stratford
Funeral flowers delivered to Masons, Funeral flowers delivered to J S Cowley, Funeral wreaths Milton Keynes